Founded in 1989 by Marc Guittard, RMC GUITTARD is a French company that manufactures, repairs and refurbishes mixers and especially Sigma Kneader Mixers
At the beginning, the main goal of the company was to refurbish, repair and modify Sigma Kneader Mixers, Sigma Kneader Mixers Extruder and mixers for the chemical industry.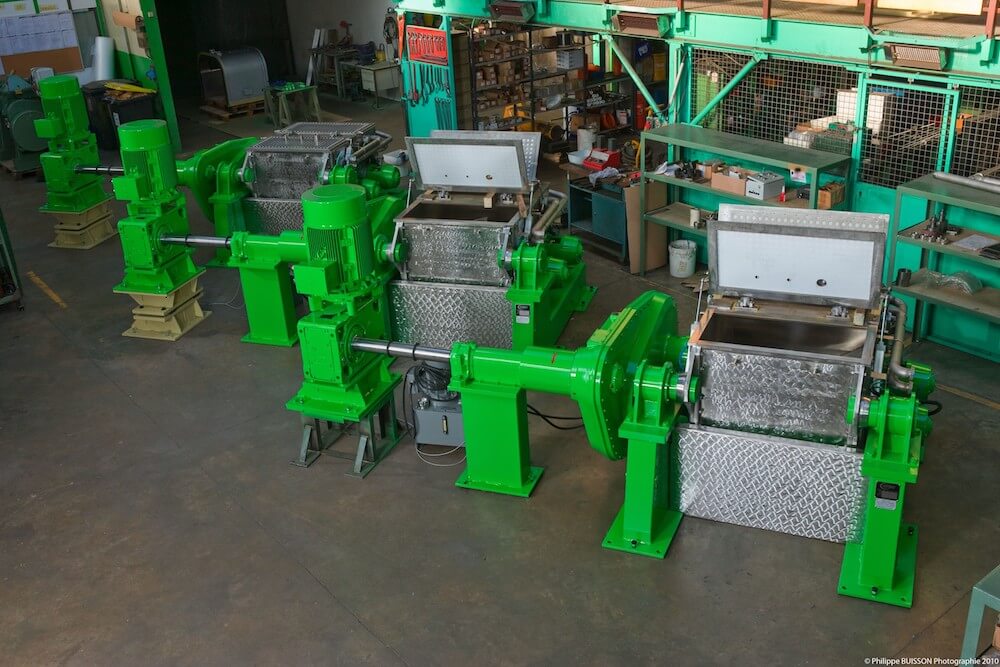 With more than 30 years of experience in the Sigma Kneader Mixer industry, the company RMC GUITTARD is able to solve any issues of kneading, mixing & dispersing that could be encountered in the food and chemical industries.
Since its takeover in 2003 by François Turlais, the firm RMC GUITTARD has invested a lot to be able to create new opportunities such as the design of high quality new mixers which integrate advanced technologies and that could encounter emerging needs and requirements.
Its specialization to manufacture almost only Sigma Kneader Mixers – mixers with horizontal blades, mostly Sigma shape (Z), with a complete range from laboratory units to production units of 5000 litres enables RMC GUITTARD to solve any problematics encountered by its customers.
One of the strength of RMC GUITTARD is to propose custom-designed machines adapted to customer needs and to manufacture non-standard mixers fully adapted to the products and processes of its customers.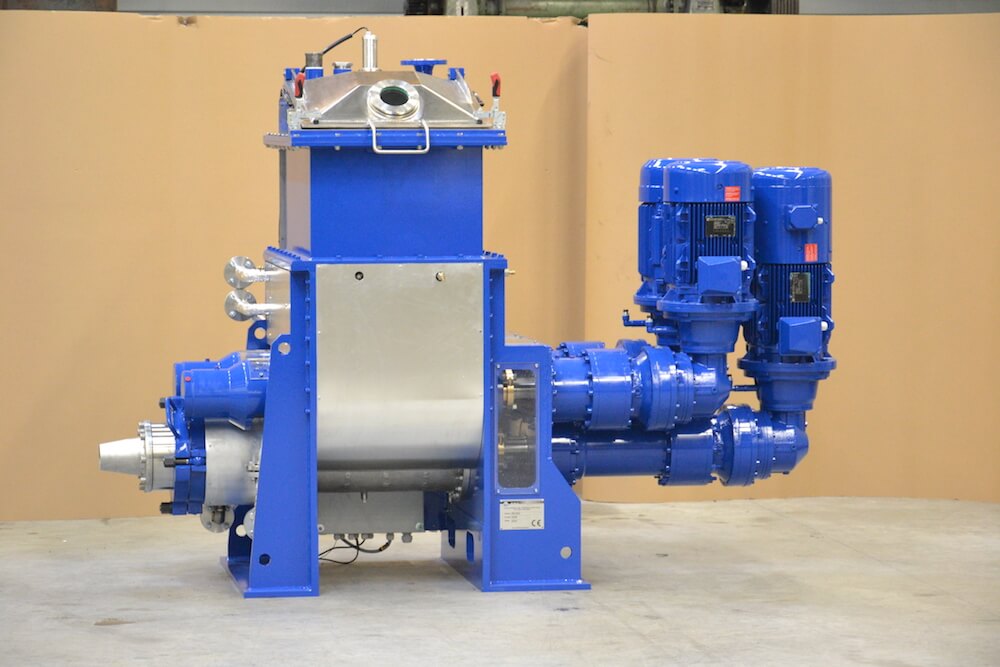 Since then, the mixers manufactured have been exported all around the world, from America to Asia and of course Europe, to be used in various activity sectors such as chemical industry, plastic, rubber, pharmaceutical and food products and also sealants, printing inks, adhesives, chewing-gums, energetic materials…
Always attentive to the customers' needs and with long-term approach, the company RMC GUITTARD is committed to design high quality mixers. Our skills to manufacture strong and reliable Sigma Kneader Mixers, our reactivity and flexibility enable us to be one of the leading companies in the Sigma Kneader Mixer industry.
The specific features of RMC GUITTARD
One of the trademarks of the RMC GUITTARD Sigma Kneader Mixers is the reliability and the robustness of its machines. Indeed, RMC GUITTARD Sigma Kneader Mixers are sized so that they can easily support viscosity variations of the products that are mixed.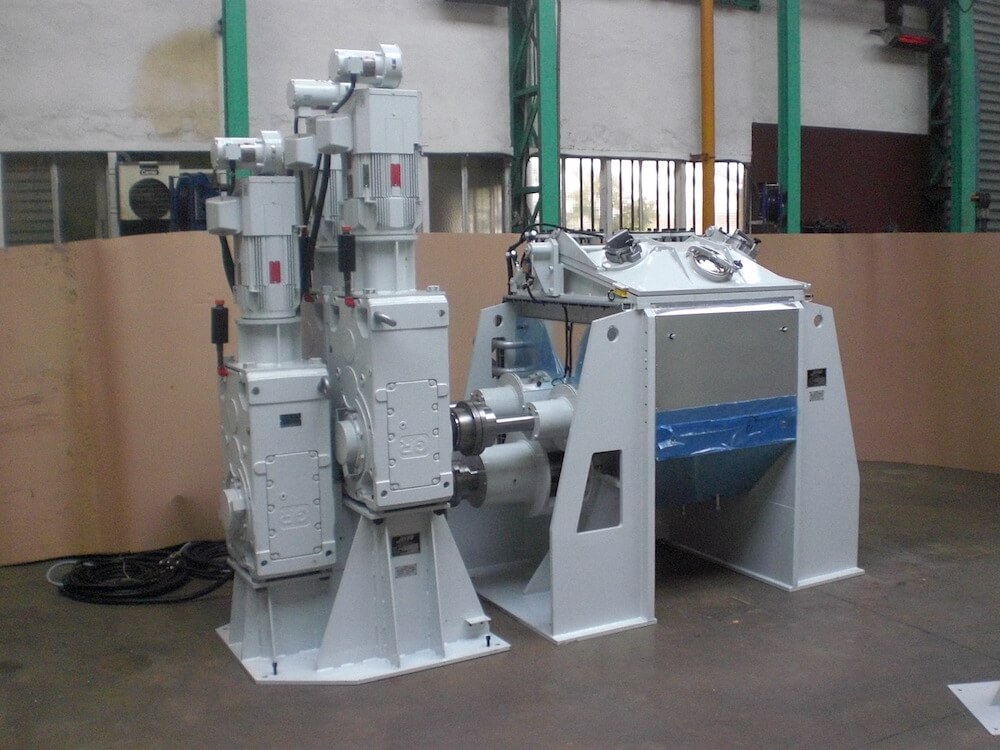 With several ranges of Sigma Kneader Mixers, from light series to heavy duty ones, RMC GUITTARD is able to propose Sigma Kneader Mixers which are in accordance with customers' needs.
Using the French skills in general and precision machinery and manufacturing, RMC GUITTARD teams manufacture mixers that are internationally recognised. With a team of professionals which worked in automobile and aeronautic sectors, RMC GUITTARD is a specialist in the precision mechanics for Sigma Kneader Mixers.
Dealing with global companies in the chemical and food industries has enabled RMC GUITTARD to acquire a rigorous working method which gave us a reputation beyond the mixing industry.
Based in France at 30 kilometres away from Paris, RMC GUITTARD has the necessary tools to be pro-active on the World, European and French markets. Indeed, thanks to its strategical geographic location, halfway between the North of France and Lyon industrial areas, RMC GUITTARD can respond quickly to the requests of its customers. At three hours from Belgium, the Netherlands and five hours from Germany, RMC GUITTARD teams are able to operate quickly in case of a problem at a customer's plant.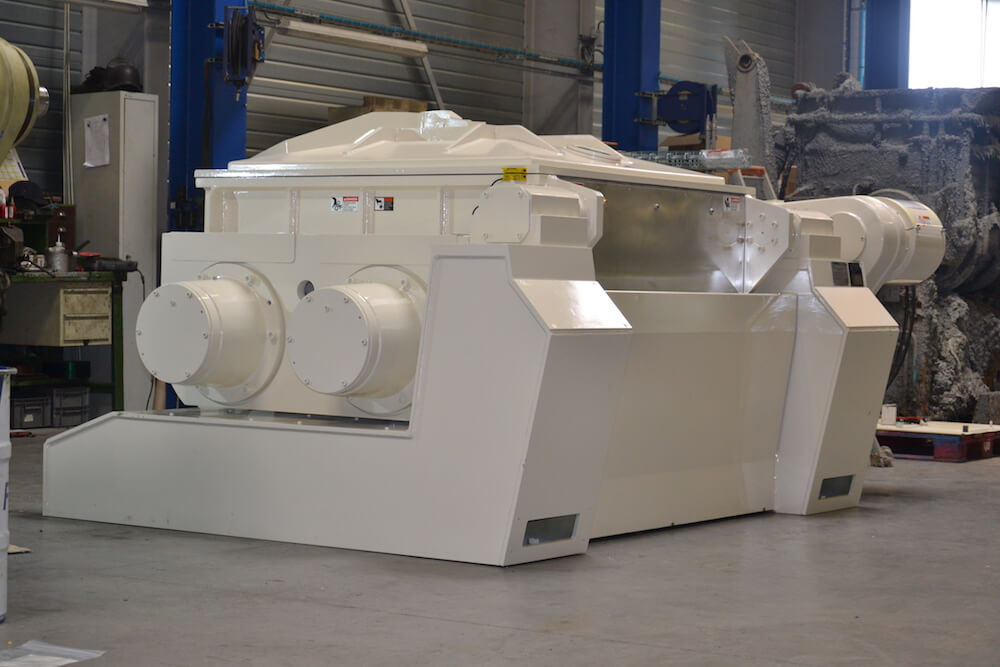 Its location in France which has advanced skills in the aeronautic, nuclear sectors… enables RMC GUITTARD to integrate advanced technologies on its Sigma Kneader Mixers and then respond to the new issues of its customers.
Thanks to partnerships with major French companies to supply peripherical equipment (Electricity, hydraulic, heating systems), RMC GUITTARD is able to propose high quality turnkey solutions.
A Sigma Kneader Mixer is a horizontal mixer with two Sigma shape tangential blades (Z). These blades are installed in a specific designed tank to obtain a very precise functional clearance to be able to knead, disperse, mix efficiently and homogenize all type of products thanks to a very important shearing effect.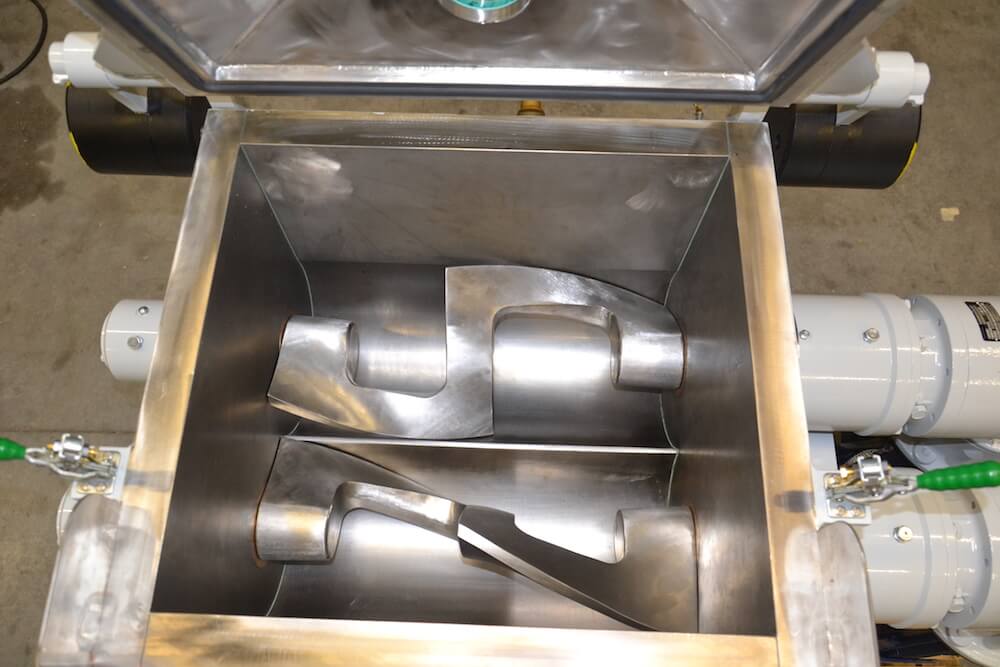 Sigma Kneader Mixers also called Sigma blade mixers, Z-blade mixers or Double Arm Mixers are particularly preconized to mix high viscosity products for which the mechanical design of the other type of mixers is not adapted. Sigma Kneader Mixers have generally a double jacket on the mixing tank to heat or cool the product which is mixed. For special requests, the blades can also have their own circulation system (heating or cooling).
The discharge can be done in different ways, using a hydraulic cylinder for tilting the tank of Sigma Kneader Mixers, with an extrusion screw for Sigma Kneader Mixers Extruder and with bottom valves for bottom discharge mixers.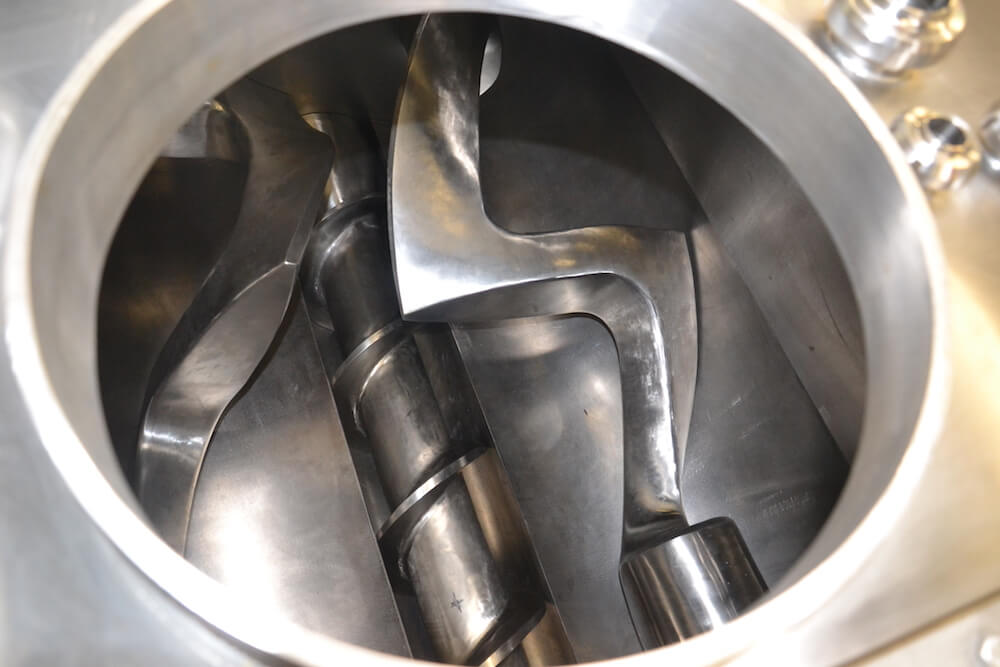 The Sigma Kneader Mixers extruder have an extrusion screw at the bottom of the tank which turns in one direction during the mixing phase and which we invert the direction of rotation to begin the discharge of the product mixed.
Several options exist on this type of mixers such as the possibility to work under vacuum, the reinforcement of the tank with wear plates, the implementation of blades with a specific shape (dispersion blades, Nabben blades…) or the implementation of specific coatings on the product contact parts such as hard chrome plating, Stellite Hardfacing…
The application areas of Sigma Kneader Mixers are very wide:
Chemical industry :
Glues & Adhesives
Sealants
Noise absorbers
Silicones
Rubber
Food industry :
Biscuits
Candies
Chocolates
Chewing-gum
Other applications :
Compound polyester
Brakes
Ceramics
Energetic Materials